Posts Tagged 'women'
An interesting history-related post from Boston 1775: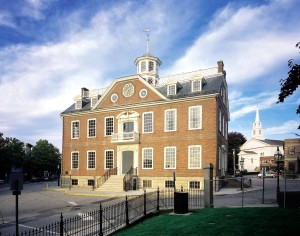 Public protests against the
Stamp Act
spread outside of Boston in August 1765 so quickly that I've fallen behind the
sestercentennial anniversaries
of those events.
Since the
Newport Historical Society
is commemorating that port town's protests with a
reenactment today
, I'm focusing on the events in
Rhode Island
.
On 24 August, ten days after the
first protest
at Boston's
Liberty Tree
,
A Providence Gazette Extraordinary
appeared.
William Goddard
(1740-1817) had stopped publishing this newspaper in May. This special issue was "Printed by S. and W. Goddard," the "S." being William's mother
Sarah
(c. 1701-1770).
Sarah Goddard resumed ...
Read the original post.