Posts Tagged 'women'
An interesting history-related post from Boston 1775: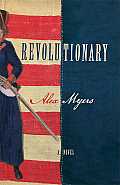 On Thursday, 30 October, the
Old South Meeting House
will host a book talk by Alex Myers, author of the novel
Revolutionary
.
As the event announcement explains, that book is the fictionalized story of
Deborah Samson, a woman who disguised herself as a man, joined the Continental Army (as Robert Shurtliff), and participated in the final battles of the Revolutionary War.

This meticulously researched debut novel brings to life the true story of Deborah's struggle against a rigid colonial society and her harrowing experience on the front line. The author, who was raised as Alice and came out ...
Read the original post.