Posts Tagged 'women'
An interesting history-related post from Boston 1775: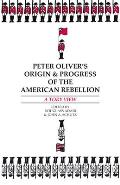 A month ago
I quoted the longest passage in
Peter Oliver
's
Origin and Progress of the American Rebellion
on "Mr. Otis's black Regiment," the politicized Congregationalist
clergy
of Boston. Oliver used the phrase "black Regiment" at other times in his chronicle as well.
The first passage is from an early chapter on "Beginnings of the Revolution." It starts in 1760 with Gov.
Francis Bernard
choosing not to nominate James Otis, Sr., to the province's highest court, and
James Otis, Jr.
, quitting his royal office and making his talents available to the opposition instead. Oliver, who eventually sat on ...
Read the original post.