Posts Tagged 'women'
An interesting history-related post from Boston 1775: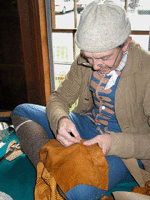 The
Old South Meeting House
is hosting a series of midday events on the theme of
"Made by Hand in Boston: The Crafts of Everyday Life,"
cosponsored by Artists Crossing Gallery. These sessions explore the cross between artistry and commerce in the pre-industrial economy.
This Friday, 23 January, the historian of science and technology
Robert Martello
will speak about
"Benjamin Franklin, Tradesman."
The event announcement says:
Follow Franklin's footsteps from the time he ran his brother's press as a young apprentice, through the many life adventures that shaped his life as a wordsmith, statesman, and printer. Printing ...
Read the original post.