Posts Tagged 'tea'
An interesting history-related post from Boston 1775: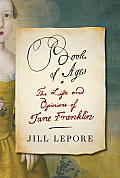 On Wednesday, 14 May, the
Old North Church
will host an illustrated lecture by Jill Lepore, professor at
Harvard
, on
"Jane Franklin's Spectacles."
This talk is based on Lepore's
Book of Ages
, a finalist for the National Book Award.
Jane Franklin
was
Benjamin
's little sister. The lecture description notes she "never went to school, but she thirsted for knowledge. . . . Although married at the age of fifteen and the mother of twelve children, Jane became an astute political observer and even a philosopher of history." She lived her last years in a house just behind ...
Read the original post.