Posts Tagged 'science'
An interesting history-related post from Boston 1775: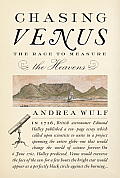 Historian
Andrea Wulf
will speak about her new book,
Chasing Venus: The Race to Measure the Heavens
, at two local sites next week. On Tuesday, 29 May, she'll talk to the
Lexington Historical Society
at 7:30 P.M. That event will take place in the Lexington Depot, and is free.
The next evening at 7:00, Wulf will speak at the
Arnold Arboretum
—an appropriate locale since her previous books include
Brother Gardeners
and
Founding Gardeners
, about horticulture in the eighteenth century. This talk will cost $10 for Massachusetts Historical Society and Arnold Arboretum members or fellows, $20 for others, ...
Read the original post.