Posts Tagged 'food'
An interesting history-related post from Boston 1775: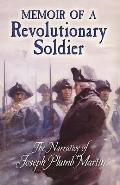 As long as I'm quoting Sgt.
Joseph Plumb Martin
's memoir of fighting in the Revolution, I can't resist passing on this
assessment of the book
from April on Goodreads:
The author said in the beginning of the book that this was his story and it was not remarkable, I very much agree with him. I had to read this book for history class but nevertheless I was excited to hear about a real account of the revolutionary war. Throughout the book it was a constant repetition of procuring piece of salt pork, stopping to rest, marching. I expected some ...
Read the original post.