Posts Tagged 'art'
An interesting history-related post from Boston 1775: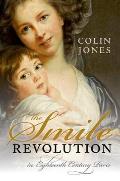 The 12 January
New Yorker
includes Jonathan Kalb's article
"Give Me a Smile,"
which describes in personal terms the importance of being able to smile.
Kalb writes, "The spontaneously joyful smile is the facial expression most easily recognized from a distance—as far as a hundred metres, researchers say." Since the late 1800s, scientists have claimed and amassed evidence that the smile is a universal human expression.
I was struck, therefore, by this
Boston Globe
interview with Colin Jones
about his new book,
The Smile Revolution in Eighteenth Century Paris
. According to this book, through the early 1700s "smiling ...
Read the original post.