Boston N.H.P. Welcomes Visitors Real and Virtual Today (Boston 1775)
An interesting history-related post from Boston 1775: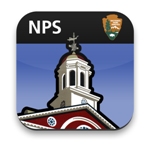 This morning
Boston National Historical Park
opens its new visitor center in
Faneuil Hall
—the reason I've been
exploring
stories of
that landmark
this week
. Secretary of the Interior Ken Salazar, who oversees the National Park Service, will be in town for the public opening at 11:30 A.M., along with elected officials.
Yesterday the park released an
"NPS Boston" app
for mobile devices, produced with GuideOne and available through iTunes. (An Android version is on the way.) I downloaded this to my iPad and tried it out.
The app is designed to help people plan their visit to the ...
Read the original post.
Learn more on this topic from our
recommended AP history review books
.