Upcoming Events Off the Beaten Path (Boston 1775)
An interesting history-related post from Boston 1775: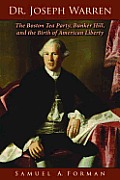 In addition to the annual commemorations grouped around Patriots' Day that I linked to
here
, a few more talks caught my eye because they're one-off events in unusual venues.
On Monday, 16 April (which is legally Patriots' Day), at 10:00 A.M., Dr. Sam Forman will sign copies of
Dr. Joseph Warren: The Boston Tea Party, Bunker Hill, and the Birth of American Liberty
, at the
Vine Lake Cemetery
, 625 Main Street in
Medfield
. Why a cemetery in Medfield? Because that's the burial place of
Mercy Scollay
, Dr. Warren's fiancée when he died. Forman will "read ...
Read the original post.
Learn more on this topic from our
recommended AP history review books
.