Age of Fracture Wins a Bancroft Prize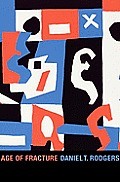 I'm stepping a couple of centuries out of my usual period to state my pleasure that among the winners of this year's Bancroft Prize for studies of the history or diplomacy of the Americas is Daniel T. Rodgers for Age of Fracture.
Rodgers—or Uncle Dan, as I've always called him—is Henry Charles Lea Professor of History at Princeton University. His specialty is intellectual history of the past century and a half, gradually moving toward the present. Age of Fracture examines changes in political, economic, and social thinking in the 1980s.
Uncle Dan also contributed to the study of early America through his paper "Republicanism: The Career of a Concept" in the Journal of American History in 1992. That's a meta-analysis about how small-r republicanism became such a hot topic in discussions of nearly all aspects of life in the early U.S. of A.
As long as I'm on book prizes, I'll mention the three finalists for the 2012 George Washington Book Prize, recognizing "best books on the nation's founding era, especially those that have the potential to advance broad public understanding of American history":
Finally, Liberty's Exiles recently received the National Book Critics Circle prize for non-fiction.
Learn more on this topic from our
recommended AP history review books
.